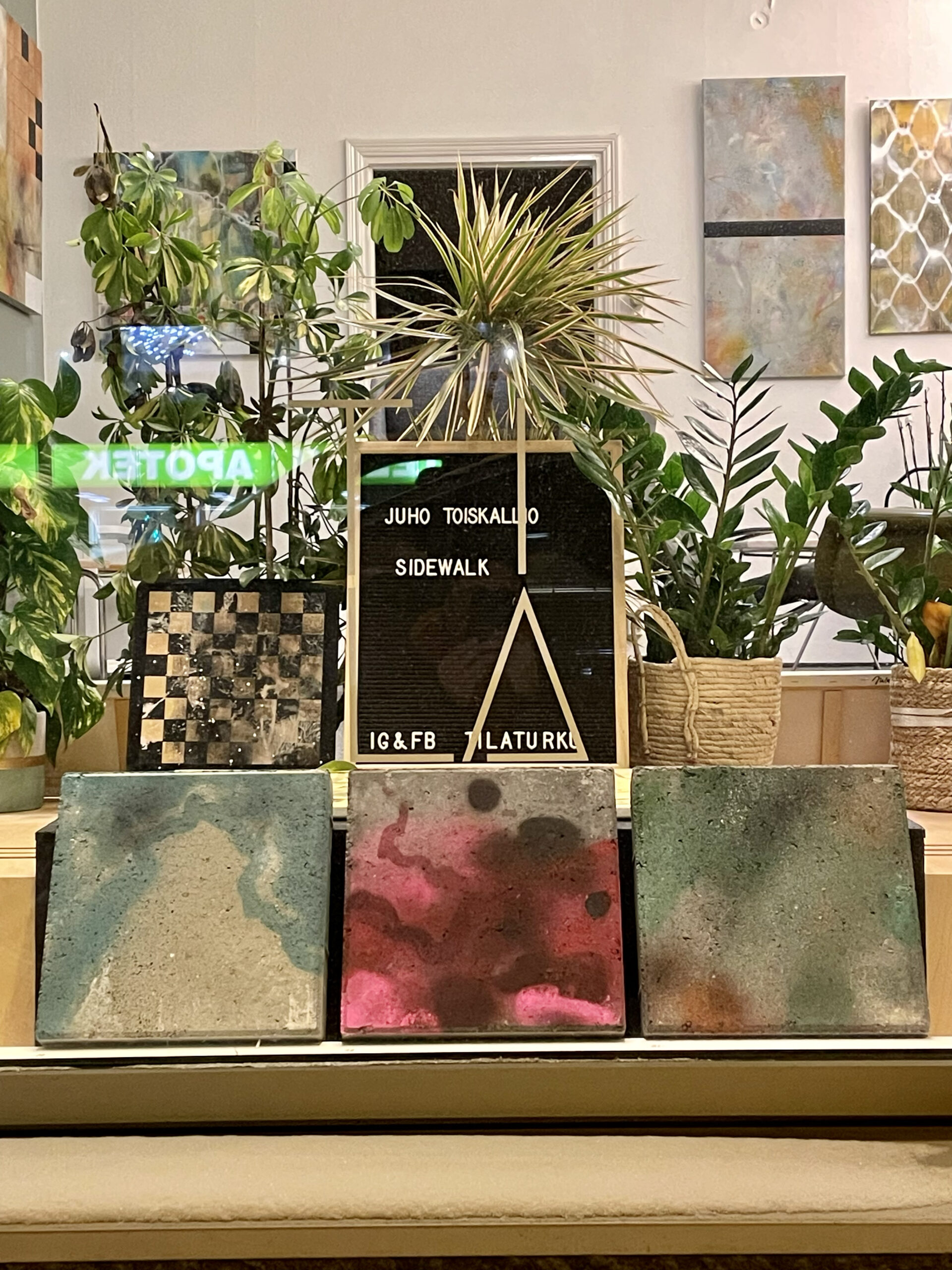 Juho Toiskallio SIDEWALK, 2.12.-31.12.2023 @ Tila (Kaskenkatu 11, Turku)
Open on saturdays (12 to 3pm) and by appointment.
Wed 6.12. 12-15
Sat 9.12. 12-15
Sun 10.12. 12-15
Times updated weekly.
Facebook-event: https://fb.me/e/1GKRX9esG
Follow @juhotoiskallio.art on Instagram.
Email: juhotiitus@gmail.com
Juho Tiitus Hemminki Toiskallio (b. 1974)
Uncategorizable in urban arts, culture and design.
Visual artist, graphic designer and more.
Living and working in Helsinki, Finland.
Strong relationship with original hometown Turku.
Lifetime experience in graffiti / underground / urban arts and culture.
Co-founder and chairman of the board of Freshcode ry – a non-profit organization supporting urban arts & culture.
Author of the finnish graffiti "handbook" GRAFFITI – Wraitterin käsikirja (Otava, 2020).
Positions
2022 started/continuing – Chairmain of the board, Freshcode ry
2018-2020 – Author, GRAFFITI – Wraitterin käsikirja (Otava 2020)
2001 started/continuing – Freelancer in visual arts, graphic design and web design
1993 started/continuing – Organizer, curator and graphic designer in various event productions
1986 started/continuing – Graffiti / visual artist
Solo exhibitions
2023 – Sidewalk, Tila, Turku
2021 – Free, Space 81, Turku
2016 – Aftershock, Make Your Mark Gallery, Helsinki
2014 – Diggin' deeper, Kulttuurispotti Asema, Turku
Group exhibitions
2023 – Freshcode Art Connection, Taiteen talo, Turku
2023 – Freshcode @ Popup-kulttuuritila Takapiha, Turku
2022 – Freshcode Art Connection, Taiteen talo, Turku
2022 – Iisibiisi Galleria, Myrskylä
2021 – Freshcode Art Connection, Space 81, Turku
2021 – Wave Formation, Make Your Mark Gallery, Helsinki
2011 – Scooby Doo!, Secret Outside Spot, Turku
2011 – Present time art fair, März project space, Tallinn
2011 – Cheap Art Party, B-Galleria, Turku
2004 – Levelsix, Klubigalleria Päiväkoti, Turku
Auctions
2021 – Modern & Urban Art, Hagelstam & co, Helsinki (10/2021)
2021 – Modern & Urban Art, Hagelstam & co, Helsinki (1/2021)
Curation
2021-2023 – Freshcode Art Connection, Turku
2016-2018 – Freshcode Unity Jam, TVO / Brinkkalan piha / Gong / Dynamo, Turku
2008-2010 – Turku Soundcheck , Klubi, Turku
2002-2003 – Freshcode, Brinkkalan piha, Turku
1993 – MOK Jammz Hopstravaganza, Warehouse, Turku
Books and media
2020, GRAFFITI – Wraitterin käsikirja (Otava Publishing Company Ltd)
Teaching
2022 – GRAFFITI, basics of history, design and practice for junior high school classes 7-9, Turku Steiner School
2023 – GRAFFITI, basics of history, design and practice for junior high school classes 7-9, Turun Normaalikoulu, The Teacher Training School of Turku University
Association activities
2022 started/continuing – Chairman of the board of non-profit organization Freshcode ry
2016 started/continuing – Co-founder and member of the board of non-profit organization Freshcode ry
Memberships
Kuvasto ry – Finnish copyright society for artists working in the field of visual arts
Sanasto ry – Finnish literary copyright society
Freshcode ry – Finnish non-profit organization supporting urban arts & culture
Spraycankontrol ry – Finnish non-profit organization supporting urban arts
Yö ry – Finnish artist association of active and enthusiastic professionals from various fields